Amazon Echo Dot with clock 2022 marks the fifth generation of this diminutive smart speaker. It would be natural to ask what other uses could be made of such a tiny device. However, Amazon is constantly improving the functionality of its speaker. It is difficult at first to distinguish the new Amazon Echo Dot from the older model. However, it becomes clear once you begin using it.
Amazon Echo Dot (Fifth Generation, 2022): Price and availability
Amazon launched the Echo Dot with Clock, a new Echo Dot with Clock that will go on sale in September 2022. It is available to pre-order starting October 20, 2022. The speaker comes in two colors — Twilight Blue and Glacier White. Amazon, Best Buy, Walmart and many other retailers can purchase the smart speaker.
Amazon Echo Dot With Clock, 5th Gen (2022): The Best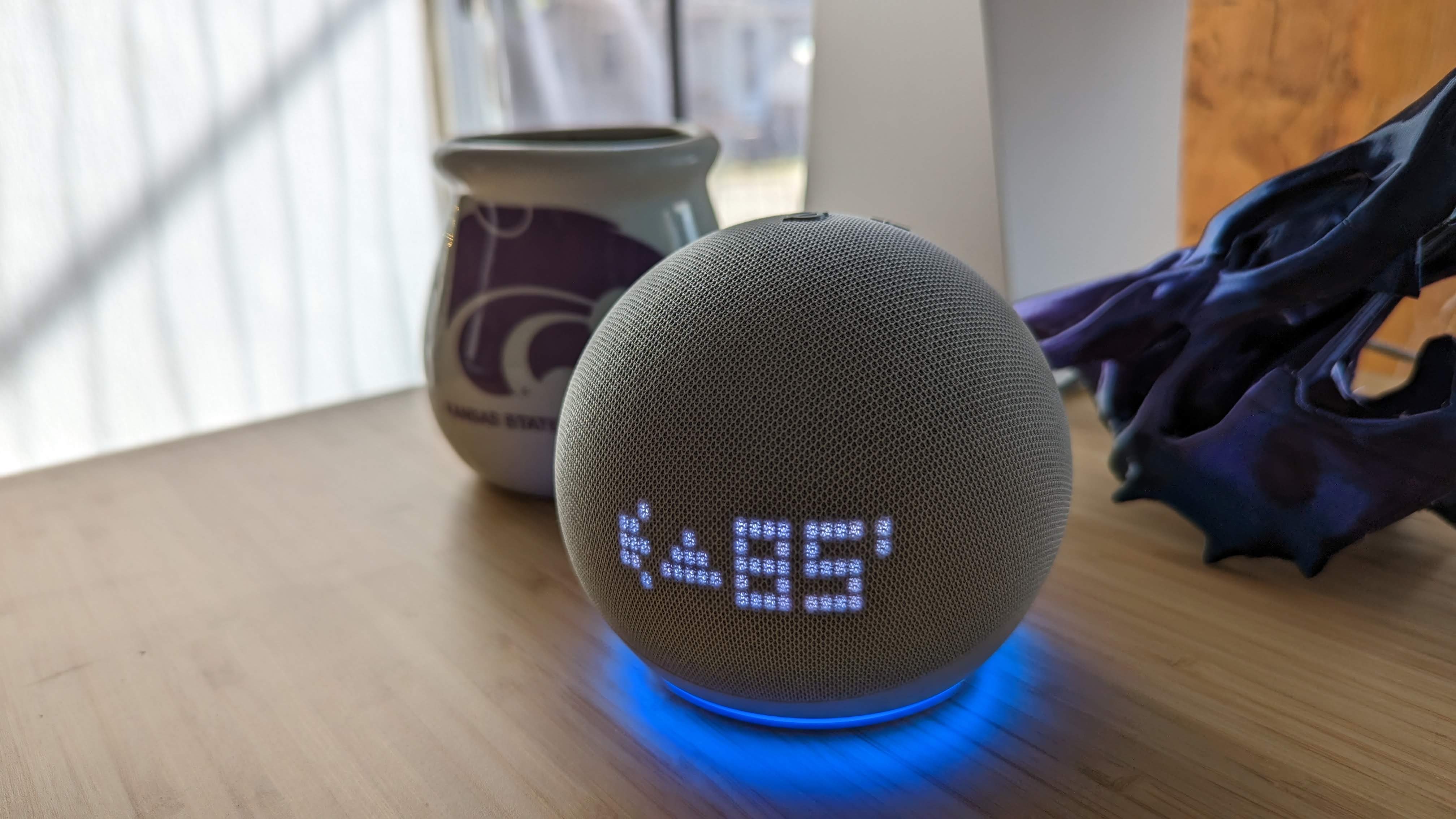 This new version retains the original design of the Amazon Echo Dot with Clock (4th Gen) and Echo Dot with Clock (5th Gen, 2022). It is cylindrical in shape with an indicator circle around its base. You wouldn't know that the Echo Dot with Clock 5th Gen (2022) has been updated from the outside. 
In the future, the speaker will simply be called Echo Dot with clock and I will make sure to distinguish between the 4th and fifth gens when I compare them.
Amazon updated its LED display to make it easier for us to distinguish this speaker from the rest of the Amazon speakers. It looks almost identical to the previous display, which has individual LEDs that make up an pixelated readout. It can now show more than the time.
The LEDs now provide visual feedback that is similar to smart displays such as the Amazon Echo Show 8 but the capabilities are still very limited. The Echo Dot with Clock will display a small icon that looks like a cloud to indicate a cloudy day. It also displays the temperature. It will also display the song's title and artist name if it is playing. These are only a few of the many ways that the Echo Dot with Clock's improved display is making it even easier to use.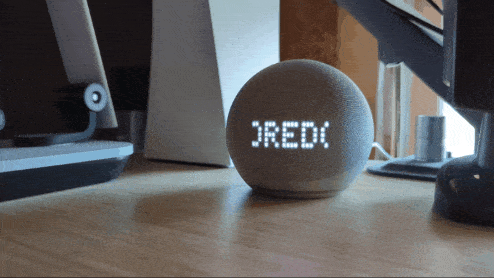 There is another change in the Echo Dot and Clock's exterior that is not obvious. This is the tap-to-control function. The voice control features that we have used for many years with Alexa smart speakers are available again. You can now tap on the top of the speaker to stop a timer or pause a song. It's been very helpful for me when I don't want to speak to it. A quick tap will do the trick.
Moving to the interior changes, the new Echo Dot with Clock gets improved sound quality with a slightly larger speaker — moving from 1.6 inches to a 1.73-inch driver. This is not a huge change but it will bring improvements to a device which has an extremely small speaker. The Echo Dot with Clock doesn't have a loud bass, but it does sound great, and the volume is quite good considering the small size.
Amazon also managed to fit a temperature sensor into its smart speaker. Echo Dot with Clock has the ability to track the temperature of any room in which it is located, giving you more possibilities for home automation. I have set it to turn on the Govee Smart Turbo Circulator Fan if the temperature in my office hits 69℉ during work days. Govee is my favorite smart tabletop fan. They sell for $70 at Amazon. (opens in a new tab.
| | Echo Dot With Clock (5th Generation) |
| --- | --- |
| Size | 3.9 x 3.9 inches x 30.5 inches |
| The Weight | 10.7 Ounces |
| Procesor | AZ2 Neural Edge |
| Speaker | 1.73-inch speaker |
| 3.5mm port | 🚫 |
| Bluetooth | ✔ |
| Wi-Fi | 802.11 a/b/g/n/ac (2.4GHz / 5GHz) |
| Buttons | Volume control, volume up/down, mic off, action button, tap to adjust |
| Stereo sound with a pair | ✔ |
| A light ring | It runs along the base of speaker |
| LED clock | ✔ |
| Colors | Glacier White and Twilight Blue |
| Retail cost | $60 |
| Compatible with the eero routers | ✔ |
| Temperature sensor built-in | ✔ |
Echo Dot with Clock's final characteristic is its capability to function as an extender Wi-Fi for eero Mesh Systems. Compatible with all eero Mesh Routers, except the 1st generation eero Home Wi Fi System. The Echo Dot can be used with any of the mesh routers except the eero Home Wi-Fi System (1st gen). It is being introduced first for the Amazon Echo Dot (5th Gen, 2022) and the Echo Dot 5th Generation with Clock (5th Gen,2022); but, it will soon be available on all 4th gen models.
Amazon has upgraded its Echo Dot with Clock processor to the latest AZ2 Nural Edge chip, although it was not a requirement. The same processor powers higher-end Echo Show 10 or Show 15 devices. This processor is faster and responds to my questions quicker, which I've definitely noticed an improvement.
Amazon Echo Dot 5th generation, 2022: What's wrong?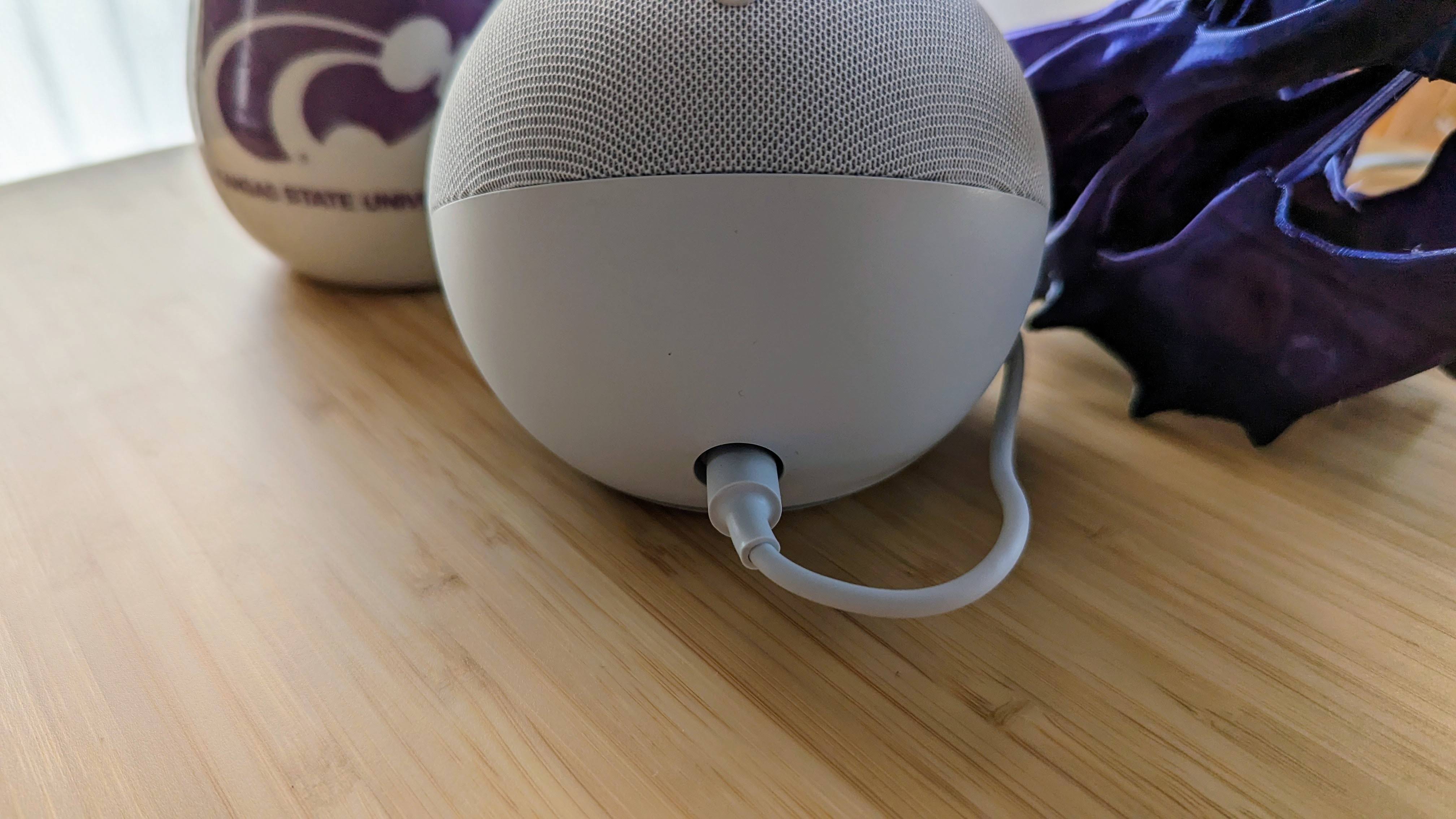 To avoid disappointment when you are considering the Amazon Echo Dot, here are some things to expect. One of the most important is their ability to produce high quality audio. These speakers sound amazing for their tiny size. However, if your goal is to get a loud bang at your neighbors, you might not be happy with the quality of your audio output.
You might have used an Echo Dot with Clock in the past to control your music and host big events by connecting more powerful speakers through the 3.5mm Audio Jack. Unfortunately that port no longer works. Maybe it was necessary for the larger speaker to work, or Amazon felt that it wasn't being used by enough people so it had to go. Whatever the reason it was taken out, it is gone.
Another issue with the Echo Dot with clock is the choice of colors. Although I like the Twilight Blue and Glacier White colors, they may not be right for everyone. Maybe you like darker colors and prefer the Charcoal or Deep Sea Blue choices for your standard Echo Dot. While I'm not sure why, those colors should be on the Echo Dot with Clock. 
Amazon Echo Dot With Clock, 5th Gen (2022): Competiton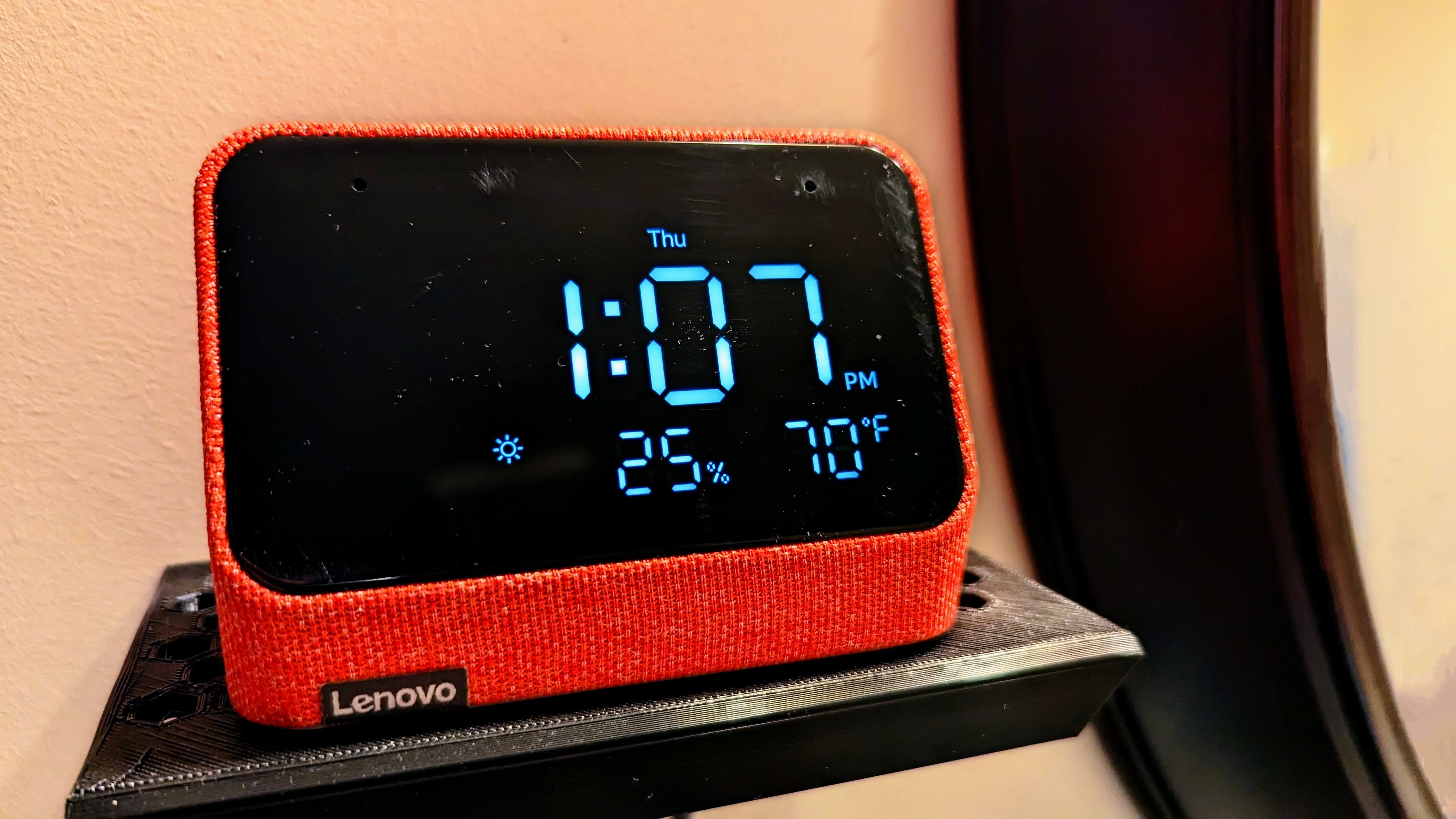 While the small space for smart speakers isn't too crowded it does have some solid options. You can stick to Amazon-made Echo Dot if you still desire the same features. You will not get the updated features on the clock version. However, the LED display is still available. The 4th-generation models are available, however, you won't get tap-to control, the larger speaker and eero compatibility. 
The Lenovo Smart Clock Essential With Alexa Built in is a great alternative to the Amazon-branded speakers. It has some amazing features. This small screen is great. It shows time and temperature as well as cute animations. Some Alexa features are lost, but Amazon retains them for its products. However, voice control is largely the same.
It is certainly better than the Echo Dot with Clock. Also, the Smart Clock Essentials with Alexa Builtin costs less than $30. Best Buy has it. (Opens in new window). The Lenovo option lacks the powerful AZ2 neural Edge processor, temperature sensor and eero integration as well as the bigger speaker. It doesn't have access to Amazon Kids+.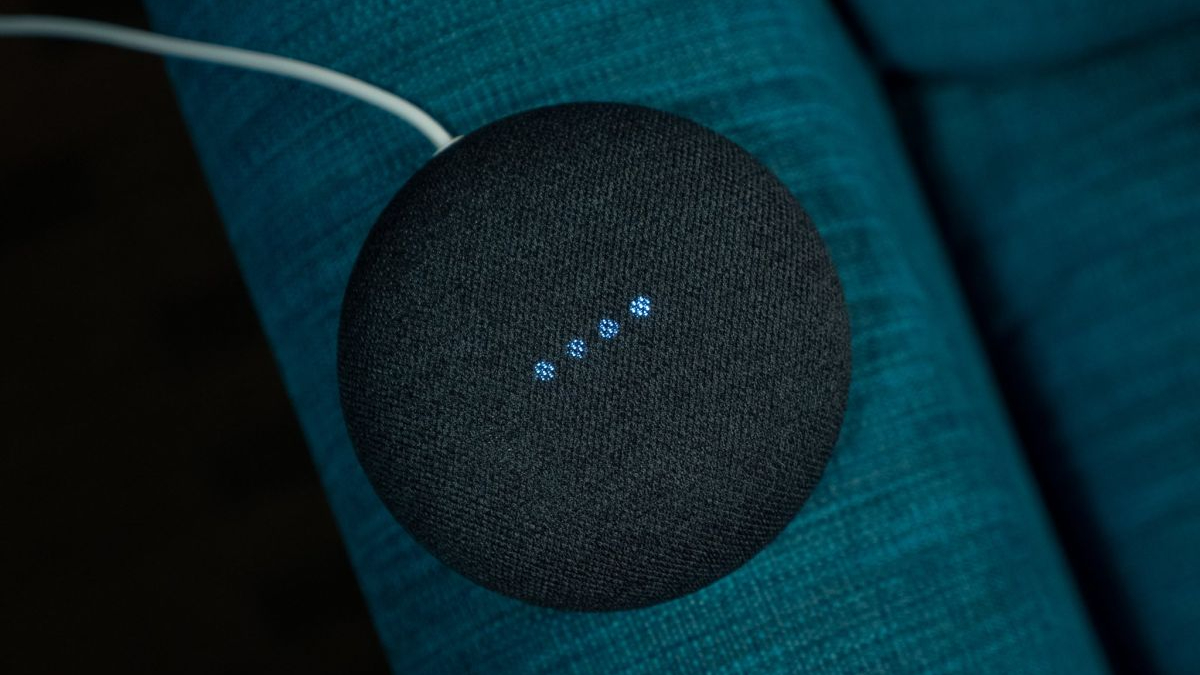 Nest Mini is an excellent option for those who want to have a more compact smart speaker but also wish to explore other smart assistants such as Alexa. In our evaluation of this speaker we discovered that the value was great. Although it retails at $49 for the standard price, you can often find it for much less. While it does not have the clock of the Echo Dot with Clock, or Lenovo's version, its sound quality and Google Assistant are excellent.
Google's smart speaker is small enough to fit a lot of sensors, but it still packs a lot of features. The built-in hole at the back allows you to mount it on the wall. This frees up more space for your desk. While it is not essential for getting things done efficiently, it can be a nice feature. 
Amazon Echo Dot With Clock, 5th Gen (2022): Do you think it's worth buying?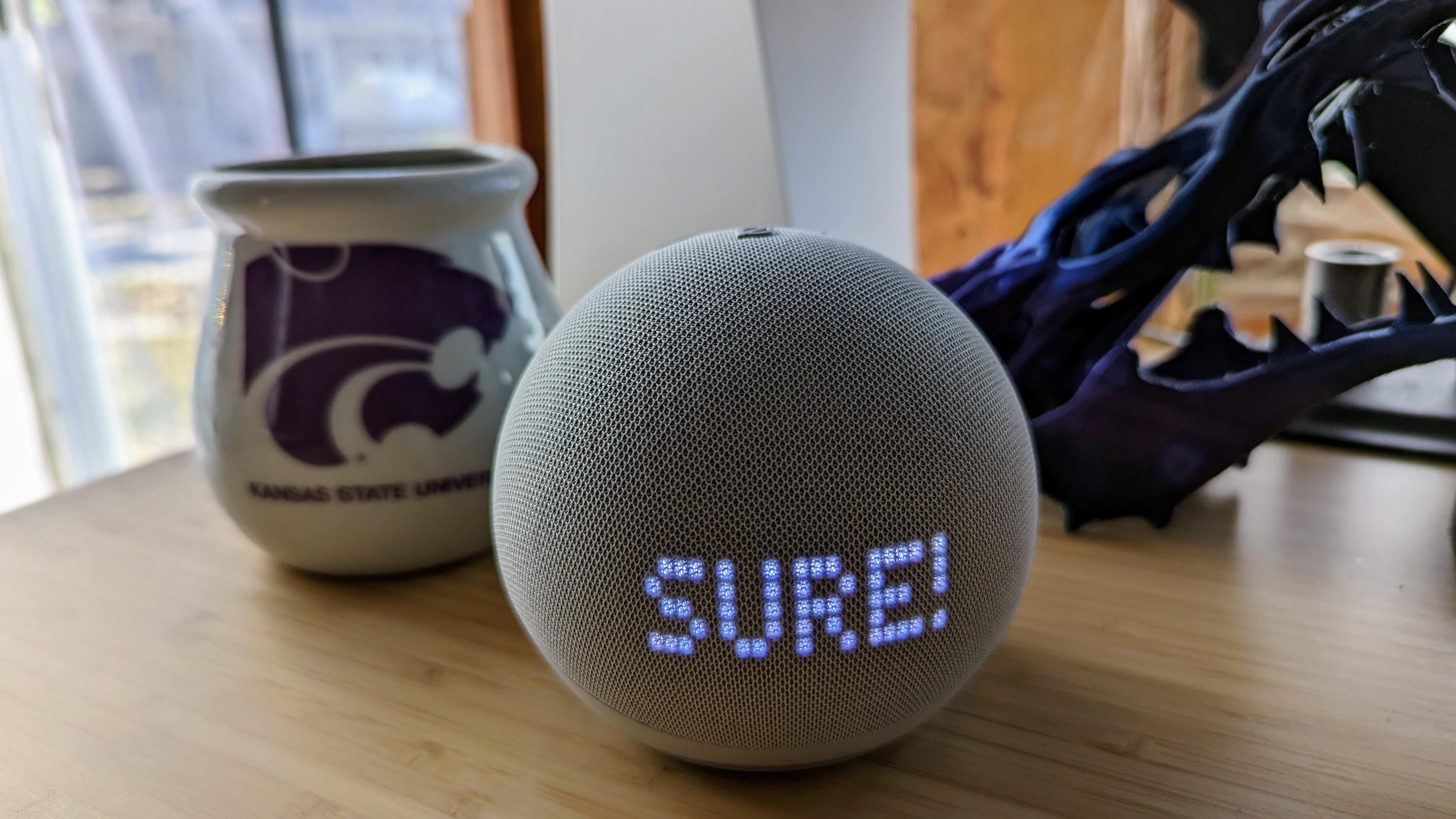 If you are…
A small, powerful Alexa speaker is what you want.
Automation is what you want for your smart home.
It is important to have a nightstand, or desk with a useful function that does more than just provide a timer.
An eero Wi-Fi system is available to you.
If you are…
Music with heavy bass is your favorite type of music.
It has speakers that you would like to connect.
It is not for you to wear light colors.
Amazon Echo Dot with Clock and its many helpful features make it one of our top picks for smart speakers. The Echo Dot with Clock has been an excellent purchase for many years. This model is only the latest in a long line of great speakers. Most listening experience are pleasant thanks to the improved speaker. If you prefer bass-heavy or want your shelves speakers to be plugged into the speaker, then you will not be disappointed. 
However, the addition of visual feedback and an ever-available clock to the LED display is a great feature. Tap-to-control, which made it to the speaker, will be a popular feature. The temperature sensor is another favorite for those who love smart homes. Automating smart home devices according to room temperature is a great feature.
The new Echo Dot with Clock is beautiful in all the colors Amazon has to offer, but the darker shades may not suit everyone. If you are able to choose from the many options available and decide to purchase this tiny smart speaker, you will be very happy.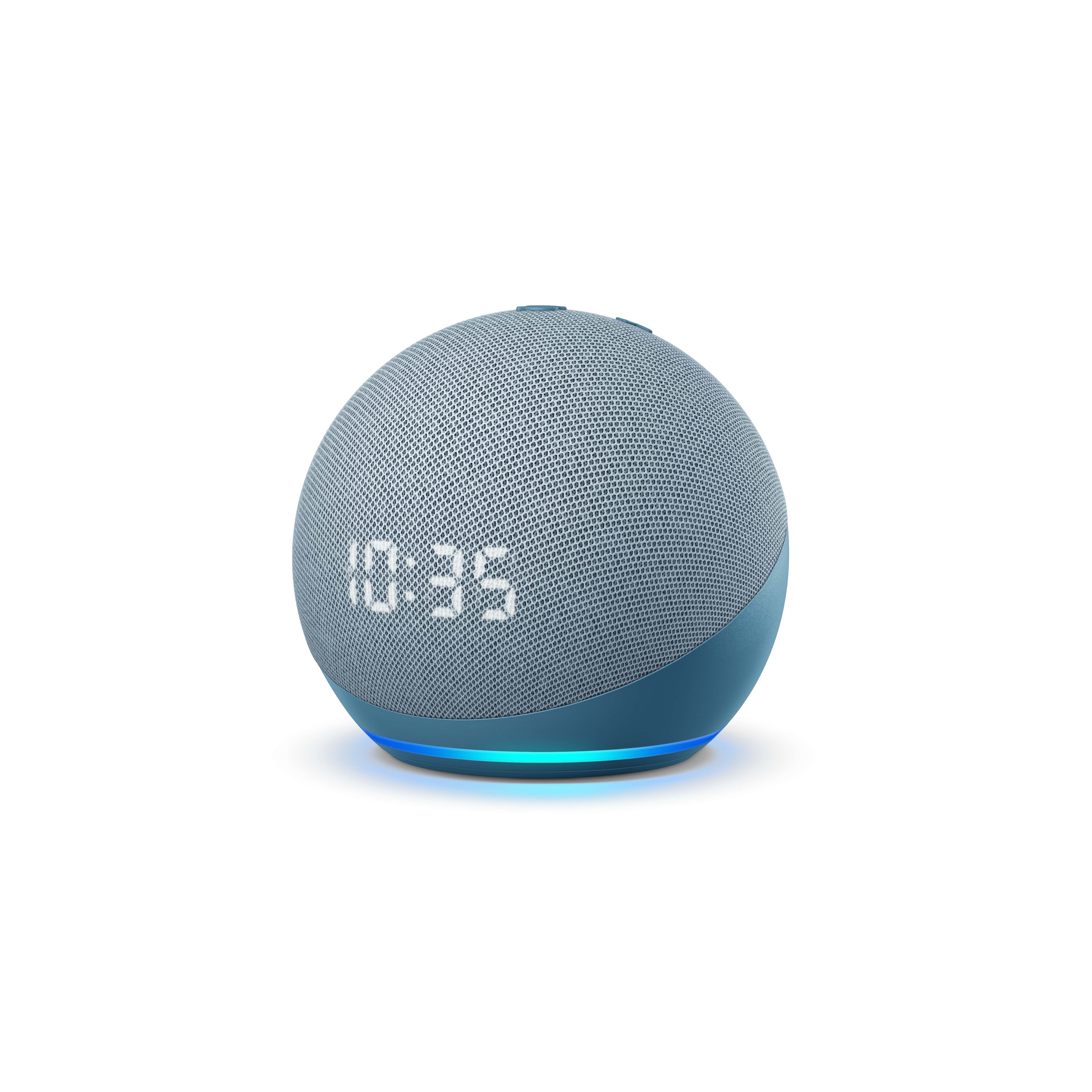 The Amazon Echo Dot with Clock, despite being small in size, is loud and clear. You'll be able to pair the powerful sound of the small device with many helpful sensors and the enhanced LED display and the intelligence of Alexa.
Trending Articles