Plume SuperPod Whole House Wi-Fi Reviews Rating

Summary
The Plume system may be worth looking into if price is not a concern and you do not want to have granular network control but still want something that works.
There are pros
Only £8pcm for two SuperPods with no big upfront payment
It seems that self-optimisation works well
Performance throughout the home, including range and satellite performance
Cons
Model subscription-based
There is no way to seperate 2.4Ghz
Poor 2.4Ghz performance
Plume is Wi-Fi networking company that I had somehow missed. Plume works on a subscription model, so they offer more functionality than other Wi-Fi networking brands like Netgear or TP-Link.
Purchases made directly by Plume will require payment for both the subscription and devices. You can avoid paying the initial cost for the Wi-Fi 5 SuperPods if you purchase via Virgin Media.
Specification
Wi-Fi Interfaces

Triple band, simultaneously operating 2.4GHz and 5GHz 2×2 MIMO and 5GHz 4×4 MU-MIMO 802.11b/g/n/ac radios
For 2.4GHz radios, operating bandwidths are 20/40MHz and 20/40/80MHz respectively for 5GHz radios.
AC3000Gigabit WiFi 400 + 867 +1734 Mbps

Security

WPA2-PSK (AES)
SPI Firewall
VPN Passthrough

Wireless Networks

A single SSID for all 5GHz and 2.4GHz band bands, with customized guest access through Plume Access.

Modalities

Router mode, with IPv4 DHCP and firewall server.
IPv6 propagation in Bridge mode

Based on the operating usage, power consumption is calculated

4.5W standby
Average of 10W
Maximum power consumption 15W

Ethernet Ports

One 100Mb/1Gb Ethernet port that can be used as either a WAN or an LAN.
Automatic detection of WAN and LAN functions

Processor: ARM a7 quad core, 717 MHz
RAM Memory: 512 Mb
Virgin Media vs Plume HomePass Direct Pricing
Virgin Media is selling the WiFi 5 SuperPod. Here's what I received and how it was reviewed.
This costs £8 per month; you get two SuperPods for free, and then each additional one will cost you £90.
Plume can be purchased directly, however it is much more costly.
If you were to get two SuperPods and take out a three-year subscription, paying all up front, it would cost £447.
For Virgin Media, it would cost you £288. Virgin Media even charge you less per SuperPod, £90 vs £95, and the subscription is £0.25 less, too!
Virgin Media Plume SuperPod vs SuperPod 6 with WiFi (SuperPod AX).
Virgin Media sells only the Wi-Fi 5, unfortunately. Plume is now offering a Wi-Fi 6 version. Although the specifications are quite impressive, it's hard to recommend this model over Virgin Media's.  
The SuperPod AX retains the tri-band design with a 2×2 and 4×4 5Ghz configuration, but the 4×4 band can do 160Mhz. Although Ethernet can only support gigabits, you should be capable of saturating this network using 5Ghz WiFi 6 at 160Mhz.
However, each SuperPod with Wi-Fi 6 costs £159 and a two SuperPod system over three years would set you back £567, almost double the cost of the Virgin Media deal.
You will see possible throughput speeds rise from about 620Mbps to approximately 920Mbps in comparison to the standard SuperPod. This is 48% more than the regular SuperPod, and because of the gigabit limit, it could be up to 48% for twice the price. It might be worthwhile if you have gigabit Internet access, though I doubt that many people would benefit from it.
HomePass Subscription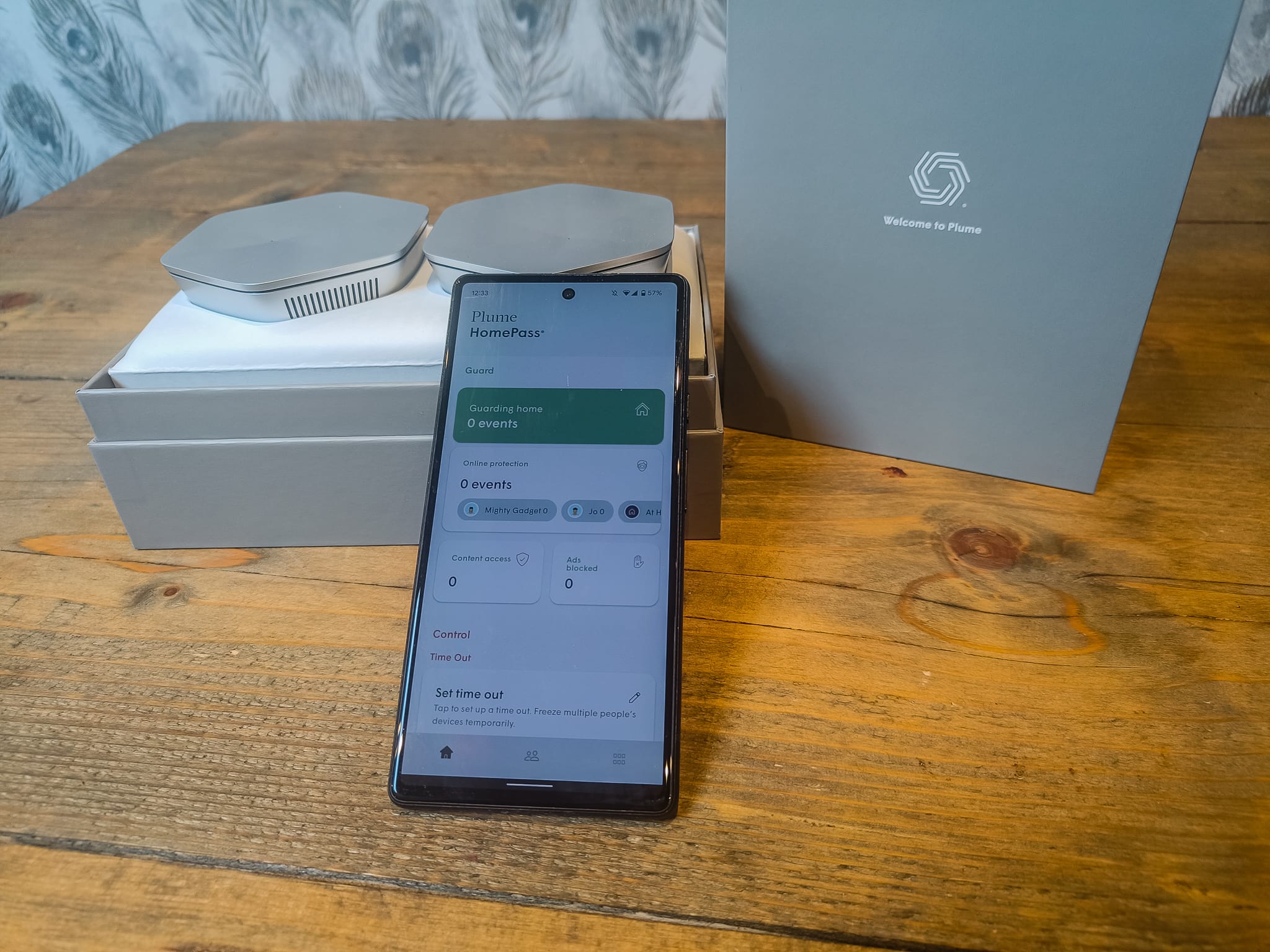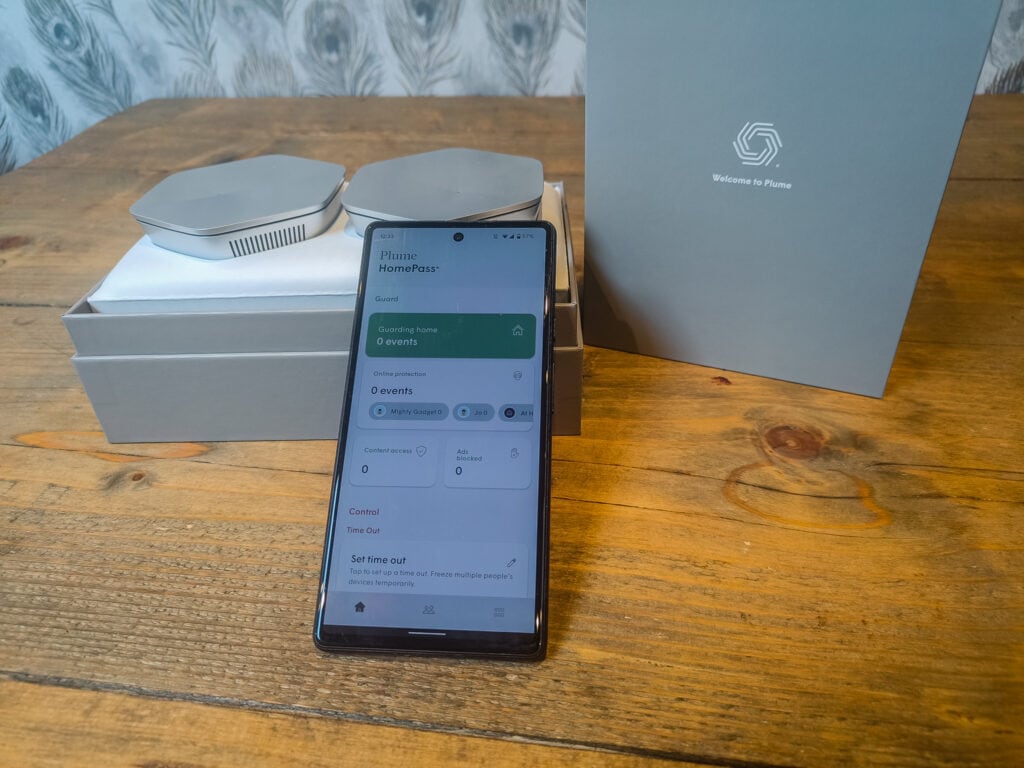 You still need to pay an annual or monthly fee, even if the SuperPods are purchased physically. Regardless of which SuperPod you get or how many you run, this fee is £8.25 when taken out from Plume directly or £8 pcm when via Virgin Media.
This fee can be justified because you receive:
This is the only home Wi Fi system that can be self-optimising or learning adaptive to your needs
Parents can enforce parental controls by using age-appropriate website blocks and content filters
Password expiration and device-specific password management for guest management
Online protection for the most malicious types
Avail advanced IoT protection including anomaly detection and device quarantine for the case of a security breach
Get a complete view of all connected devices to simplify management
Built-in ad-blocking
Motion detection at home using devices that are already connected to the Wi-Fi
Internet speed tests to ensure you get what you pay
Subscriber-based subscriptions, and especially mandatory ones such as these are not something that I like. In defense of the service, I will say that alternatives such as Netgear Armor, TP-Link Shield and other security solutions offer comparable features at a lower monthly price. Netgear Armor costs much more.
Set-Up
The process of setting up the computer is very simple. There were some teething issues for me.
The process is simple: sign up, connect the SuperPods, restart the modem and then search for the SuperPods.
Although the primary SuperPod was located immediately, it couldn't locate the other two devices. Before they could be located, all SuperPods had to be plugged in in the same place. Then I found them in the right rooms.
You will need to answer some questions about setting up the SuperPods.
Despite being a good app, HomePass does not have any controls over Wi-Fi except for passwords and SSID.
The logic here is that Plume is the "only self-optimising and learning adaptive home Wi-Fi system on the market" and therefore, they do everything for you.
IoT devices with 2.4Ghz can't be split off, so it is impossible to separate them.
App Features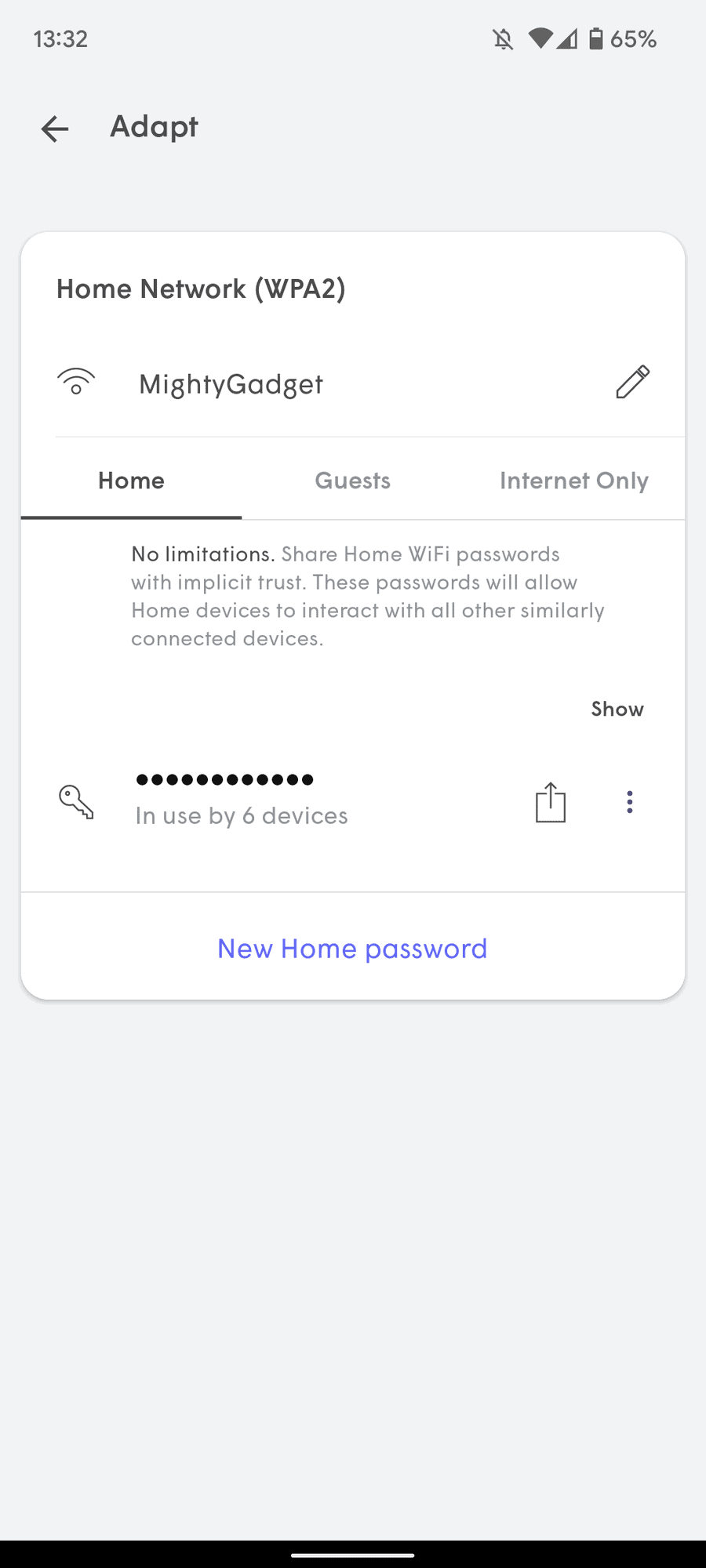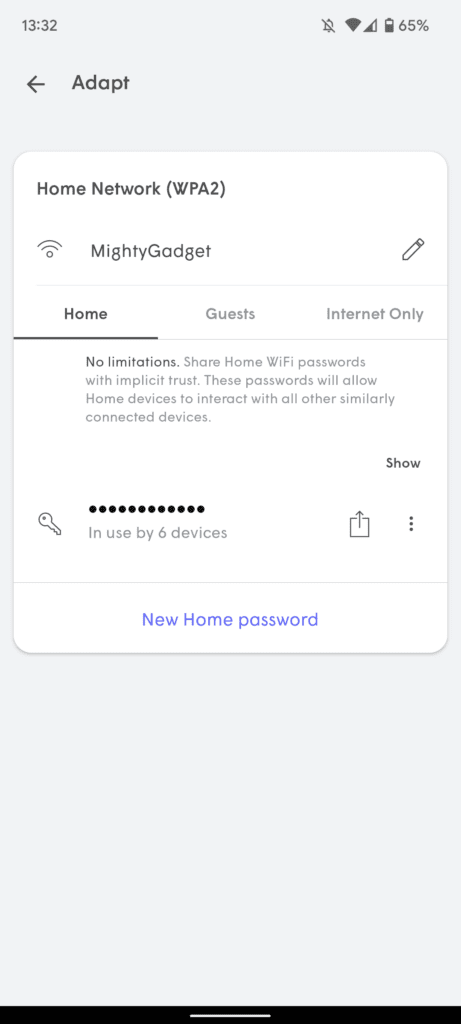 You won't find many features in a generic mesh router. This is why you should subscribe.
Wi-Fi will automatically adapt to your network, which is why it can't be controlled. You can only assign an Internet-only and guest passwords. It simplifies things and I like that the Internet-only password allows you to block devices from accessing LAN devices.
You will get feedback from the app about signal strength. The 3Rd SuperPod's initial signal was a good one. But, it improved over time to be excellent. This is likely due to the optimization. Plume should be credited for improving things.
There are not many Wi-Fi controls available, but there are several useful features that can be used to help you manage your network. It is possible to view all connected devices, the SuperPod they are connected to and what their passwords are. You can also see which events have occurred on each device.
This will give you a home security feature that allows Plume monitors motion in your home and assign devices to individuals. Although it seems odd, we have two homes and this feature isn't much of any use. This could come in handy if your kids are involved and you want to keep tabs on their activities.
Security and Ad Blocking
Plume has also built-in security features and ad blocking. These are available on other products but also come with monthly fees. Plume is an option, but it's worth considering if this feature interests you.
You can customize which devices receive online protection or adblocking by assigning devices to home users.
These include parental controls to limit access to content and to create schedules that allow a device connect to the Internet.
A lot of routers don't have a feature to block ads. NextDNS and self-hosting Pi-Hole are two options. However, they need to be set up. Although Pi-Hole was simple to setup, it took me a while to get it working. However, my entire family is not capable of doing it.
These functions were not tested properly by me unfortunately. All of them were enabled but there were no logs or ads blocking. Reddit posts indicate it is likely a DNS issue. However, there are many mixed responses. My custom DNS block ads. It continues to not work after setting up a custom DNS with Plume using Google DNS (8.8.8.8).
It is said to work well by users, however it's not as customizable or aggressive as other options.  
Wi-Fi performance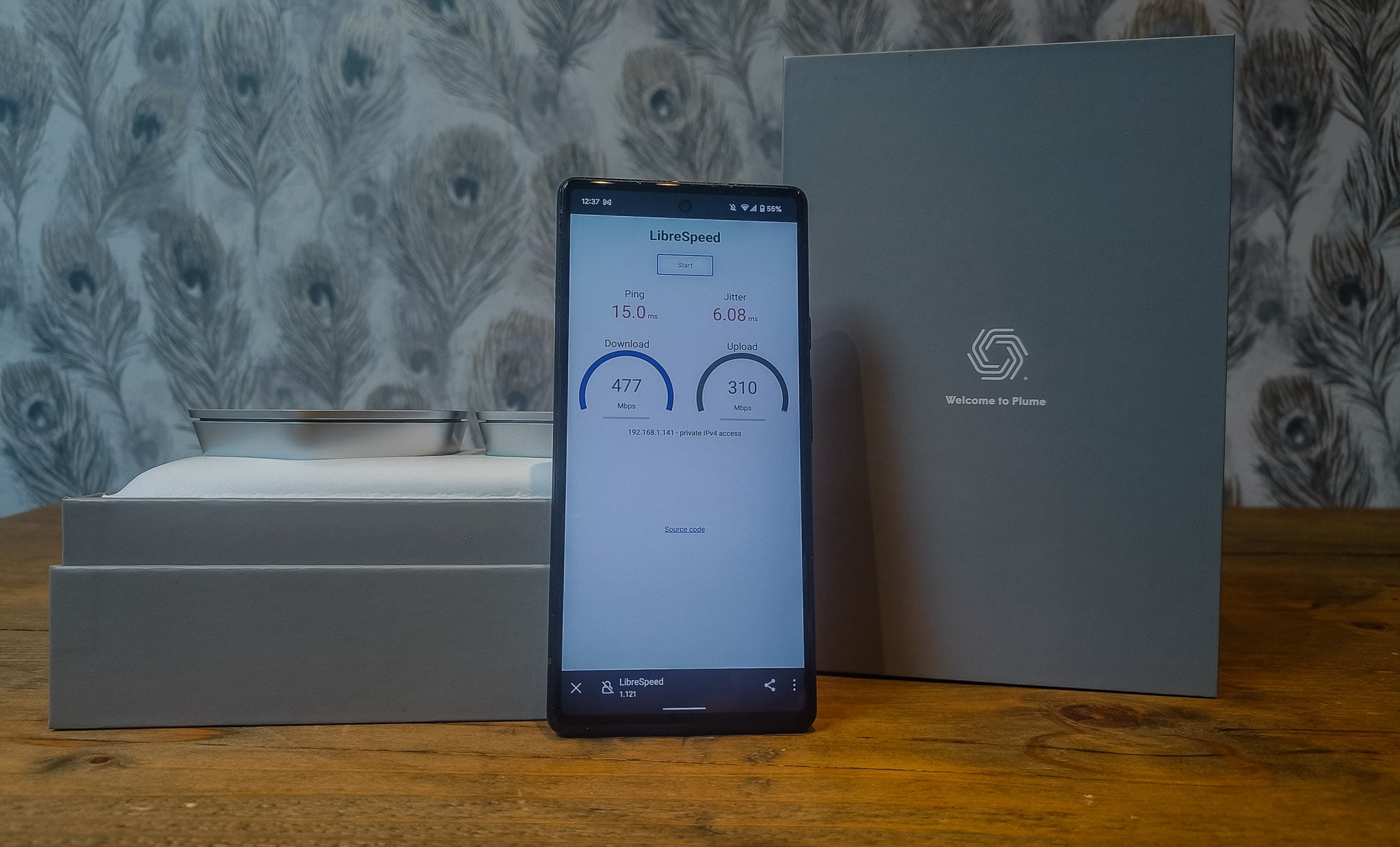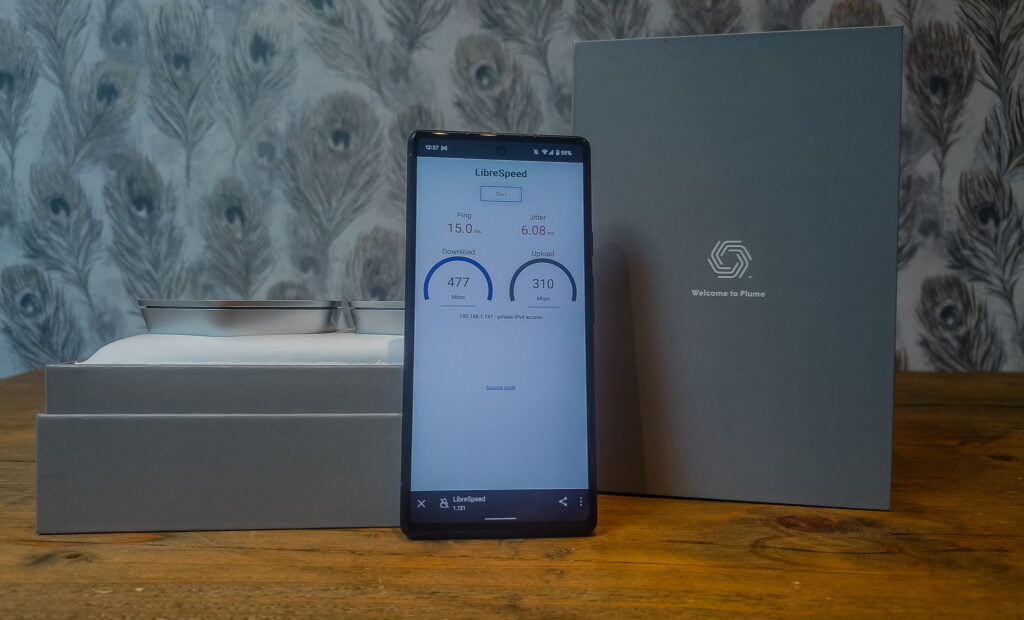 At first, I experienced mixed results when using Wi-Fi. Although satellites did not perform as well, the self-optimisation seems to work.
It is possible to increase performance even if you do not rely on 5Ghz. They are effectively treated as access points.
Wi-Fi 5 – 5 GHz
With 5GHz connections to my SuperPod, I'm able to reach a maximum throughput of 636 Mbps with iPerf between my main computer and Unraid server. File transfers are around 77MB/s.
Wi-Fi 5 – 2.4 GHz
Because of the nature of Plume, I needed to change my Windows Wi Fi settings to preference 2.4GHz. Windows initially disconnected Wi-Fi from my computer and connected again at 5Ghz the second time that I tried it. It worked eventually, although I cannot be certain if it is 100% reliable.
With a maximum throughput of 100Mbps, the result was not great. I don't use IoT at 2.4 GHz so it is not an issue for me.
Satellite Performance
I experienced poor satellite performance during my first Plume installation. This is likely to be due to my self-optimisation.
I initially received a speed of 300Mbps through the satellite from my kitchen. However, the quality improved the next day to 538Mbps.
It is possible to range
It was difficult to get satellite SuperPods to link at the beginning. I also experienced poor Wi Fi speeds. This, like the other aspects of performance, improved with time. The range was excellent, almost bordering on exceptional. These devices are small and compact.
My office is the main SuperPod, and it is centrally located upstairs. My entire 4-bedroom brick semi-detached house can be reached with good Internet speed if all other SuperPods have been turned off.
The entrance of my garage/gym is 5+m from my garden. I still have decent Wi-Fi speed.
Pricing and Other Options
The Virgin Media deal is £8 per month, including two SuperPods, and this would cost you £288 over three years. Most people have their routers/mesh system for much longer than 3 years.
As I mentioned, the Wi-Fi 6 SuperPod AX was not a good value for money and is even less than comparable brands.
While Wi-Fi5 systems are being abandoned by most brands, there is still a wide range of tri-band WiFi 5 mesh systems available. You can also find excellent, affordable dual-band Wi Fi 6, and even tri-band Wi Fi 6. While none of these devices require a subscription to use, some offer a monthly plan such as Netgear Armor.
ASUS ZenWiFi AC (CT8) – Two-pack tri-band WiFi 5 for £280
ASUS RT-AX92U – Two-pack tri-band Wi-Fi 6 for £370
Netgear Orbi RBK752 – Two pack tri-band Wi-Fi 6 for £320 (three pack is £439)
TP-Link Deco M9 Plus – Three-pack tri-band Wi-Fi 5 and has a Zigbee smart home hub for £240
Mercusys Halo 80X – A three-pack dual-band Wi-Fi 6 mesh system for just £251
Amazon eero Pro – This is a tri-band mesh Wi-Fi 5 router system for £299 in a three pack or £119 each.
Amazon eero Pro 6 – This is a tri-band mesh Wi-Fi 6 system and costs £389 for a two-pack
Because Amazon eero Pro is a major competitor to Plume, I have listed it. The eero Pro is very user-friendly, and it works well straight out of the box. They sell eero Secure for $2.99/month, which will offer many of the same functions as Plume.
In general
This system has mixed emotions for me. I was initially expecting to dislike it but I grew to love it over the years. The system is not designed to be used by people such as myself who can code and are highly skilled in technology.
The Virgin Media deal may be a good choice for the average consumer. Paying £8pcm has a lot of appeal vs a big upfront payment, and the HomePass service does have a lot of features you won't find on a cheap tri-band mesh Wi-Fi system.
Wi-Fi is generally average for WiFi 5, however, the range appears good to excellent. It worked, and you will be able set up the system without worrying about it.
The Plume system may be worth looking into if price is not a concern and you do not want to have granular network control but still want something that works.
Last Update: 2022-11-03, Affiliate links/Images from Amazon Product Advertising API
Trending Articles